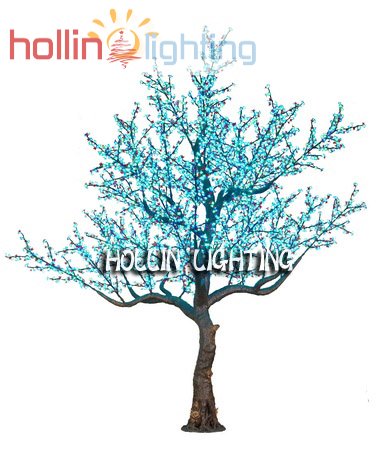 Blue LED simulation cherry tree HL-SLT008

Hollin Lighting Co.'s Natural-looking LED trees are available in different trunk colors(WHITE, BROWN, SILVER, GRAY). The appearance is very lifelike no matter in the daytime or night(extremely magnificent when the LED lights are on). Our LED Simulation Trees will be great additions for your Christmas, wedding party, corporate party, stage show, landscaping, garden or anytime and anywhere you want a unique centrepiece with incredible radiating ambience.
Different heights from 0.5m to 7.5m are available. They are all suitable for both indoor and outdoor use even in the rain. Different single colors and RGB colors are available for every LED Simulation Tree. They are convenient to pack and transport!!! The installation is easy with our detailed installation manual too.
Major features:
1. Simple installation
2. Simple disassembly for your stock use(if needed)
3. Free of maintenance
4. High quality UL/UK BS/SAA/CE GS standard; with CE, Rohs certificate
5. Low power requirements
6. Low energy consumption
7. Long operation lifetime
8. Brightness adjustable control; Blinking function
9. Anti-dazze /Non- glare
10. Safe and environmental-friendly product
11. Lifespan: 50,000---100,000 hours
12. Warranty: 1 year and free maintenance