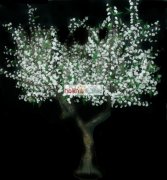 Super simulation LED flower tree(without LED lights)
Voltage:24v,110v,220v,230v
Height:3.0m
Diameter:2.6m
Color:Red,Green,Blue,White,Yellow,Pink
QTY Of LEDS:2100pcs
Rated Lifetime:More Than 5,0000
Working Temp:-30C To 60C
Certification:CE,Rohs,etc..
Warranty:1 Years
Super simulation LED flower tree(without LED lights) HL-GTF001
Our super simulated LED tree lights are even more vivid than the regular trunk trees.You can't
see any wires outside the LED tree. And they are just cool and amazing!!!
Hollin Lighting Electric Co.'s LED trees are all suitable for both indoor and outdoor use.
If you use them in outdoor lighting, they will add to the happiness of people and beautification
of the cities. Every led tree of ours enjoys a unique beauty with its own shape and different blossoms.

Product height: 3.0m
Product width: 2.6m
LEDs quantity: 2100pcs
Voltage: 24V, 110V, 220V-240V
Wattage: around 130W
Blossom's color: red, white
Different heights/width can be customized.
Easy to be installed and disassembled.