• First showing of dramatically designed recessed and suspended GE light-emitting-diode edge lighting fixtures set for LightFair 2011 in Philadelphia
• Innovation comes on 72nd anniversary of another GE first, the introduction of the "first fluorescent light and fixture" at the 1939 New York World's Fair

More than 70 years after debuting its fluorescent lighting fixtures at the 1939 New York World's Fair—the technology subsequently swept into widespread use during World War II as the country sought ways to conserve energy—GE is using North America's largest lighting trade show to unveil the next big thing in lighting: LED edge lighting fixtures. It's an innovation that represents a once-a-century turning point.

During LightFair International 2011, which starts May 17, GE will unveil a portfolio of sleek and stylish recessed and suspended fixtures that will make solid-state lighting a viable solution for widespread use in ambient applications in commercial and residential settings.

"When our GE Lighting predecessors introduced the first commercial fluorescent lighting system to the world, they laid a foundation for what would become today's standard in commercial lighting," says Jaime Irick, president and CEO, GE Lighting Solutions, LLC. "Now we're at the front edge of a new solid-state age. Our technologists have envisioned all-LED rooms and spaces for over a decade, and that vision will become our new reality when we introduce GE's LED edge lighting fixtures."

The design-forward fixtures will feature an ultra-thin "light guide" with built-in LED technology that will offer a seamless and hassle-free transition from existing fixtures to a solution that will maximize the full potential of LEDs. The performance benefits of GE LED edge lighting, compared with fluorescent lighting, will include longer life, slimmer profile, innovative form factors, better control such as full dimming capability and unmatched architectural styling. As an LED system, the fixtures also provide environmental and ease-of-recycling gains derived from not containing mercury or other hazardous materials.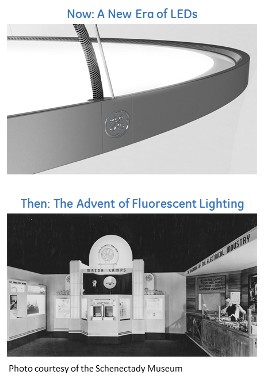 How it works, how it's different
The new GE LED fixtures will be available as ceiling troffers and suspended fixtures that will appear to float in thin air through a dramatically framed light source. Each fixture will feature high-quality transparent or opaque light panels coupled with Rambus MicroLens technology that allows lighting designers to do more with the fixture's light output. Through the use of proprietary optical modeling software and design techniques, the MicroLens "ray-angle control pattern" can be customized to efficiently spread light across the entire lighting surface or focus the light in specific locations.

"We're providing lighting designers and end-users with innovative fixture styling and optical control that's customized to serve their very specific application and illumination requirements," adds Irick. "The thrill is that you can put light exactly where you need it. Some of our biggest commercial customers are already thinking about how to put these systems to work."

The LED technology and optics of the new fixtures work in tandem to eliminate the hot spots common among fluorescent options. Each fixture will deliver uniform, bright light—both diffuse and directional—in a thin design that allows for a clean appearance. The controlled contrast functionality of the new GE fixtures will allow a user to enhance a room's overall aesthetic.

Features overview
• High CRI — A CRI of 80 or higher ensures a welcoming environment.
• Long Life — Each fixture type will carry a minimum rating of 35,000 hours (eight years at 12 hours of use each day), compared with a 20,000-hour rating for traditional fluorescent fixtures.
• Reduced Maintenance Costs — Ultra-efficient LED technology will reduce the frequency of re-lamping.
• Instant Start — The LED fixtures will turn on instantly without flickers, socket shadows or hot spots.
• Dimming Capabilities — Each product will be dimmable at 0-10 volts. Most will be DALI compliant, a feature that allows light fixtures to be integrated into a central control system.
• Environmental Benefits — In addition to its energy-saving lighting components, each fixture includes materials that can be recycled at the end of life. The LED fixtures do not contain any mercury, lead or glass, making handling and disposal less of a concern.
• Five-Year Limited Warranty — GE will help protect users against unexpected repairs.
• Upgradable — Replaceable light engines will be available at the end of the products' useful light life, saving the expense of purchasing entirely new fixtures and allowing for an upgrade to the newest LED packages.

Commercial availability
GE's family of LED edge lighting ceiling troffer fixtures becomes available late 2011, while GE's suspended European-inspired LED edge lighting fixtures are expected to arrive on the scene the first half of 2012. More information is available at www.gelightingsolutions.com .

A look back: The advent of fluorescent lighting?
The introduction of GE's LED edge lighting fixtures comes on the 72nd anniversary of another GE first, the world introduction of the first fluorescent light and fixture. GE Lighting teams announced they had perfected the fluorescent light in April 1938, but the first major introduction of fluorescent lighting was at the two World Fairs of 1939, the New York World's Fair and the Golden Gate Expo in San Francisco. The first large-scale application of florescent lighting came in the form of 2,300 lamps used at the Golden Gate Expo, which opened in February 1939. Colored fluorescents were featured prominently at the April 1939 New York World's Fair.

About GE Appliances & Lighting
GE Appliances & Lighting spans the globe as an industry leader in major appliances, lighting, systems and services for commercial, industrial and residential use. Technology innovation and the company's ecomagination(SM) initiative enable GE Appliances & Lighting to aggressively bring to market products and solutions that help customers meet pressing environmental challenges. General Electric (NYSE: GE), imagination at work, sells products under the Monogram®, Profile™, GE®, Hotpoint®, Reveal® and Energy Smart® consumer brands, and Tetra®, Vio™ and Immersion® commercial brands. For more information, consumers may visit www.ge.com .