has announced to raise $25.23 million in total for LED lighting, and has closed $13.5 million of that.

Dan Watkins at DFJ Mercury, and Forest Baskett and Jimmy Treybig at New Enterprise Associates is listed on Illumitex's filing. New Enterprise Associates and DFJ previously invested in Illumitex.

Illumitex develops LED chips and assembles them into modules that will be built into light bulbs and installations. The company is targeting the general LED lighting market as well as lighting designs that accentuate architectural buildings and lighting designs that can help plants grow in greenhouses.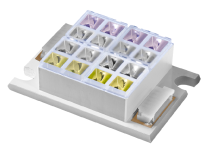 According to the company , it's been able to shrink the number of components in its LED lighting by forgoing the use of secondary optics that lead to the dome shape devices commonly found in other LEDs.

In addition, the company is capable of developing LED chips that can still emit bright and precisely aimed beams in smaller packages, while the smaller package saves space and allows lighting system makers to squeeze more of them into an installation.